Hismo
Hismo is a meta-model for software evolution analysis and it embodies my PhD thesis:
To provide a generic meta-model for expressing software evolution analyses, we need to recognize the evolution as an explicit phenomenon and model it as a first class entity.
The essence of Hismo is given in the following UML diagram:
The basic idea is that given a representation of a Snapshot, we can add time information to it through a Version and put the Version in the context of a History.
The below picture shows a parallel between Hismo and the Evolution Matrix. History offers a temporal traversal of the data space, while Version traverses the data space wise.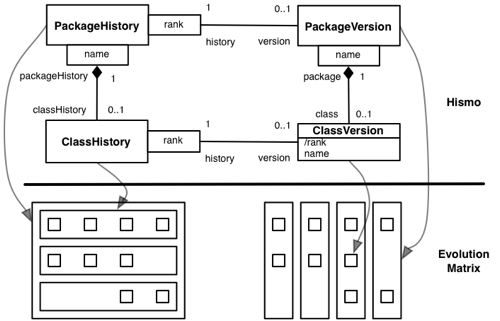 Various analyses have been implemented based on Hismo. In my PhD I show how having History as a first class encapsulation of evolution allows us to express analyses in a more concise way.
Hismo is currently implemented in Moose, in the iPlasma platform from University of Timisoara, Romania, and it stayed at the basis of a research project carried out between University of Zurich and University of Lugano.
Slides
Selected publications
PhD Thesis